Sallamah Chimera's Bio
Sallamah Chimera became mesmerized by belly dancing as a 10 year-old after seeing a newspaper article on belly dancing. The photo showed a 14 year-old girl dancing with a red chiffon veil wafting in the air behind her as she spun around and Sallamah knew the dance would make her feel mature, beautiful, feminine and help her conquer her awkwardness.
Her Studies and Employment
Sallamah Chimera began studying belly dancing a the University of Florida in 1979 with Phaedra Sekhmet. In 1980-83, she continued her studies at Daytona Beach and Valencia Community Colleges and with Azuri Zanarr of Orlando. In 1981, she started teaching at Daytona Beach Community College (now Daytona State College). In 1997, Seminole Community College hired her to teach at their Sanford/Lake Mary campus. During the summer of 1997, she moved back to Gainesville and began teaching at Santa Fe College. Several of the SFC belly dance classes are now offered at Ethnic Dance Expressions.
Her Continued Efforts to Improve
Sallamah strongly believes that the reputation of the dance is based on the abilities and behavior of its practitioners. In 1987, as part of her commitment to improve the image of belly dancing by becoming a better dancer and teacher, Sallamah, returned to college to major in dance and graduated with High Honors in 1989. She had a brief opportunity to study with Eric Hawkins, Martha Graham's dance partner. Her studies improved her skills as a teacher, a dancer and a performer giving her a wider range of dance experience to draw upon to assist her students as they learn to dance. In conjunction with her training in Middle Eastern dance, she has taken modern dance, jazz, ballet, ballroom, Polynesian, Flamenco, and Turkish and Russian gypsy dance classes to gain a better understanding and insight into world dances and cultures. She teaches Classic American and Middle Eastern Belly Dance as well as Egyptian and Moroccan Folkloric styles.
Sallamah regularly attends dance seminars to expand her knowledge of ethnic dances and to learn new teaching methods. She has studied frequently with nationally and internationally recognized masters of the dance: Serena Wilson, Morocco & Tarik, Amaya, Dalia Carella, Cassandra, Dahlena, Phaedra (NYC), Amir, Aegela, Suhaila Salimpour, Suzanna Del Vecchio, Kathryn Ferguson, as well as with Habiba, Deliliah, Aziz, Sergio, Laurel Gray, Margo Abdo O-Dell, Amara, Hadia of Canada, Beata & Horacia Cifuentes of Germany and Luna of Egypt. She has also studied with some of the leading Egyptian choreographers and performers like Mahmoud Reda, Dr. Mo Geddawi, and Nadia Hamdi.
A Few of Sallamah's Accomplishments
Sallamah has had a number of articles published on dance related subjects of the past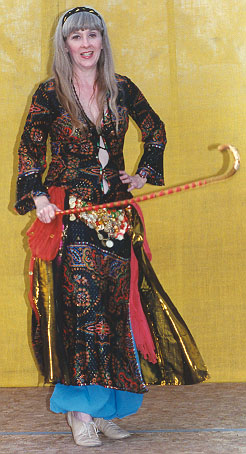 30 years. She has begun reviewing belly dance DVDs and music CDs for Amazon.com. She is now a contributing member to a Choreography Clinic for dance makers on making dances created by Marlita Hill and shares her processes for creating ethnic dances. She is a lifetime member of the Florida Folk Dance Council, was with the Florida Association of Belly Dance Artists and the Arts Association of Alachua County, and was a founding member of MEDEA (Middle Eastern Dance Education Association) which sponsored a yearly dance recital with proceeds donated to the Alachua County Humane Society, Inc. Sallamah was entertainment coordinator for the Central Florida Renaissance Festival in the mid 1990s.
She produces Veils & Visions Revue, an annual production showcasing Ethnic Dance Expressions faculty and students at Oak Hall School in the Edith D. Cofrin Theater. Sallamah and her dancers perform at the Santa Fe College Spring Arts Festival, Micanopy Fall harvest Festival, Gainesville Downtown Festival and Art Show, and for the Museum of Natural History and the Butterfly Festival at UF. In 2012 they presented at the Lifestyles-4-Women Expo at the Oaks Mall and entertained shoppers. They also produced Cafe Cairo for the seniors at the Alachua County Senior Recreation Center and put on their annual Hafla Night at the Oasis with open dancing and Mediterranean cuisine. In 2013, she entered Ethnic Dance Expressions' advanced students in the Gainesville Shimmy Mob, a global event raising awareness of domestic violence and they help raise funds locally for Peaceful Paths. She had to learn the "La Musa" choreography from the internet and teach it to her students.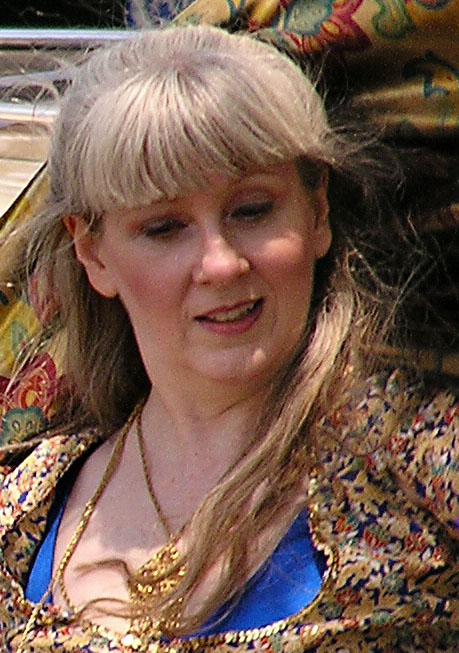 Sallamah Chimera and Ethnic Dance Expressions
Sallamah Chimera opened Ethnic Dance Expressions School of Belly Dance in Gainesville, Florida on June 1, 1999, fulfilling a lifetime ambition. She teaches beginning, intermediate, advance, troupe, and technique classes. In 2012-2013 she taught Belly Dance for Wiser Women at the Alachua County Senior Recreation Center. She also teaches workshops and intensives for costume making, veils, canes, improvisation, choreography, and restaurant and solo dancing. She also developed a special dance aerobics program for women over 35 and taught the Red Hot Mamas Aerobics class for SFC and presented information to help women through menopause.
She also directs Ethnic Dance Expressions Ensemble, a student and professional dance troupe. In 2003 she produced an instructional video, Sallamah Chimera's Belly Dancing Basics: A Student's Home Study Companion to help students practice the EDE technique at home. She also compiled a workbook for costume making and has created patterns for costuming, including one for Belly Dance Barbie.
Former Students
Sallamah has had a number of her former students go on to perform at Disney World, Universal Studios and at various clubs and restaurants in Orlando, Florida. Locally, several of her former students have taught and performed: Heather Fullen and Jules White of Shambling Shimmies, Rona Bennett "Nicoma" of Hip Moves and Portia Lange of Belly Motions in Miami, FL.