How to Book a Belly Dance Show with Ethnic Dance Expressions
Ethnic Dance Expressions will add the Perfect, Classy Entertainment to your next party or event. We have been presenting North Central Florida with quality family oriented ethnic dance programs since 1983 and are available for belly dance performances in Gainesville, Micanopy, Newberry, Jonesville, Alachua, and surrounding communities. We will provide you with a tasteful show that is family friendly with a variety of Middle Eastern folkloric, American Cabaret, Turkish Oriental and more. We play zills, doumbeks and tambourines and dance with canes and veils. If you like, we will include an audience participation set in the performance and create a surprise performance to honor the special guest. We wear authentic, elaborate and colorful costumes and can come in either cabaret or folkloric style.
To Book A Belly Dance Show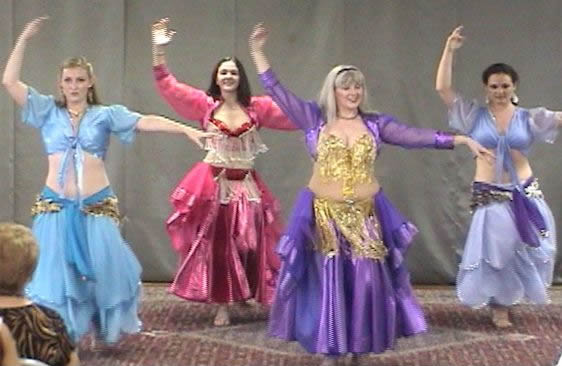 The earlier you call us, the more likelihood that we will be available to entertain you and your guests but we ask for at least three weeks advance notice to line up our talent, select the music and costumes and create a custom show just for you. We do offer special rates for nursing facilities, schools, and children's organizations. If it is a charity fund raiser, we may be able to offer our services free of charge. You may also have our dancers teach a class at your event.
Once our plan is set, a contract will be written that confirms the details and sent to you. For some shows, we ask for 50% of the fee in advance and the rest paid at the event. We accept cash and checks. For shows outside of Gainesville there is an additional mileage charge of $35 per hour or $.55 per mile. If the show will be at a Restaurant, the management must grant permission for us to dance. We offer several options or plans to better suit your event and budget.
We need an area approximately 15'x15' with a clean surface and no ceiling obstructions, a dressing area with access to rest rooms, and a table or chairs to set-up our sound equipment with access to electrical outlets. There can be no interferences with our performance whether by human or animal. Tipping is acceptable but we would prefer tips be placed in our tip basket and not on our persons. Following are the types of belly dance shows we offer.
We will dance at your . . .
Family Dinner, Birthday, Anniversary, or Retirement Party.
Club or Business Banquet or Luncheon.
Club or Organization Meeting.
Nursing Home or Retirement Village.
Father's Day Shows.
Girl's Night Out.
Bachelorette Parties.
Bridal and Baby Showers.
Wedding Reception.
Cultural and Educational Events or Festivals.
Expo or Home Show.
Grand Opening.
Special Museum Exhibit.
FUNd Raiser for local charity or organization to help boost attendance.
Holiday or Theme Party.
Award Ceremony.
We also offer:
Belly Dance Grams for Birthdays, Anniversaries and Retirement Parties.
Belly Dance shows for retirement communities, health care and rehab facilities.
Lecture and Demonstrations for schools and museums.
Bachelorette or Birthday Belly Dance Class Parties at EDE or your facility.
Brownies and Girl Scout Belly Dance Class Parties at EDE or your facility.
Video Taping of your event by Tom's Digital Services.
Book Your Show
For more information and to book your show call Sallamah Chimera at 352-384-9200 or
e-mail her at sallamah@bellsouth.net. We will be happy to work with you to create a special event or party. To help us prepare for your show, please fill-in the information on the Show Booking Form and submit it to Sallamah Chimera.