Ethnic Dance Expressions School of Belly Dance Gainesville Florida
Who Belly Dances? FAQs
Here are some frequently asked questions and other information about belly dancing. A photo of Ethnic Dance Expressions presenting a Shimmy & Learn program for the Florida Museum of Natural History at UF.
Who Belly Dances?
Belly dancers can be found on every continent around the world and cannot be stereotyped. Students range in age from three to ninety-three plus. Instructors are often in their mid-thirties to seventies. Age is actually an asset for belly dancers. The majority of belly dancers are women, however, there are several prominent men in the profession. Students of belly dance, come from all walks of life: some are homemakers, students, and grandmothers; some are school teachers, policewomen, and nurses; some are doctors, lawyers, chemists, pharmacists, and engineers; and some are secretaries, commercial artists, actors, and accountants. Regardless of who they are or what they do, they are all mesmerized by and can benefit from belly dancing.
Why Do Women Belly Dance?
Women seeking belly dance classes come in all different shapes and sizes. Some come to lose weight while others are bored or need a spiritual boost. Women also seek the gentle therapy offered by the dance movements to get into shape or to recuperate from injuries, surgery, and childbirth. Some expectant mothers use belly dancing to strengthen their pelvic muscles prior to labor as well as dance during labor to help bring forth the baby. Other women want to improve their mental health, rejuvenate their self-esteem or give their libido a shot of excitement. Many just want to get away from home or work or school for a few hours and leave their everyday images at the door to become "Salome", "Cleopatra" or "Little Egypt." After all, "Girls just wanna have fun!"
Women tend to gravitate toward belly dancing because it is not off limits or a dance for the elite who are extremely talented, young, and lithe. In its natural cultural setting, belly dancing is a social event for all generations of women to participate in. Belly dancing, unlike ballet, jazz and modern dance, is a woman's dance created by women for women, and therefore, allows the student, the instructor, and the professional the greatest freedom for individual creativity, expression, and growth. It provides a variety of styles to select from such as American, Greek, Lebanese, Turkish or Egyptian cabaret; folk; tribal; and fantasy dancing.
Is It Easy to Learn to Belly Dance?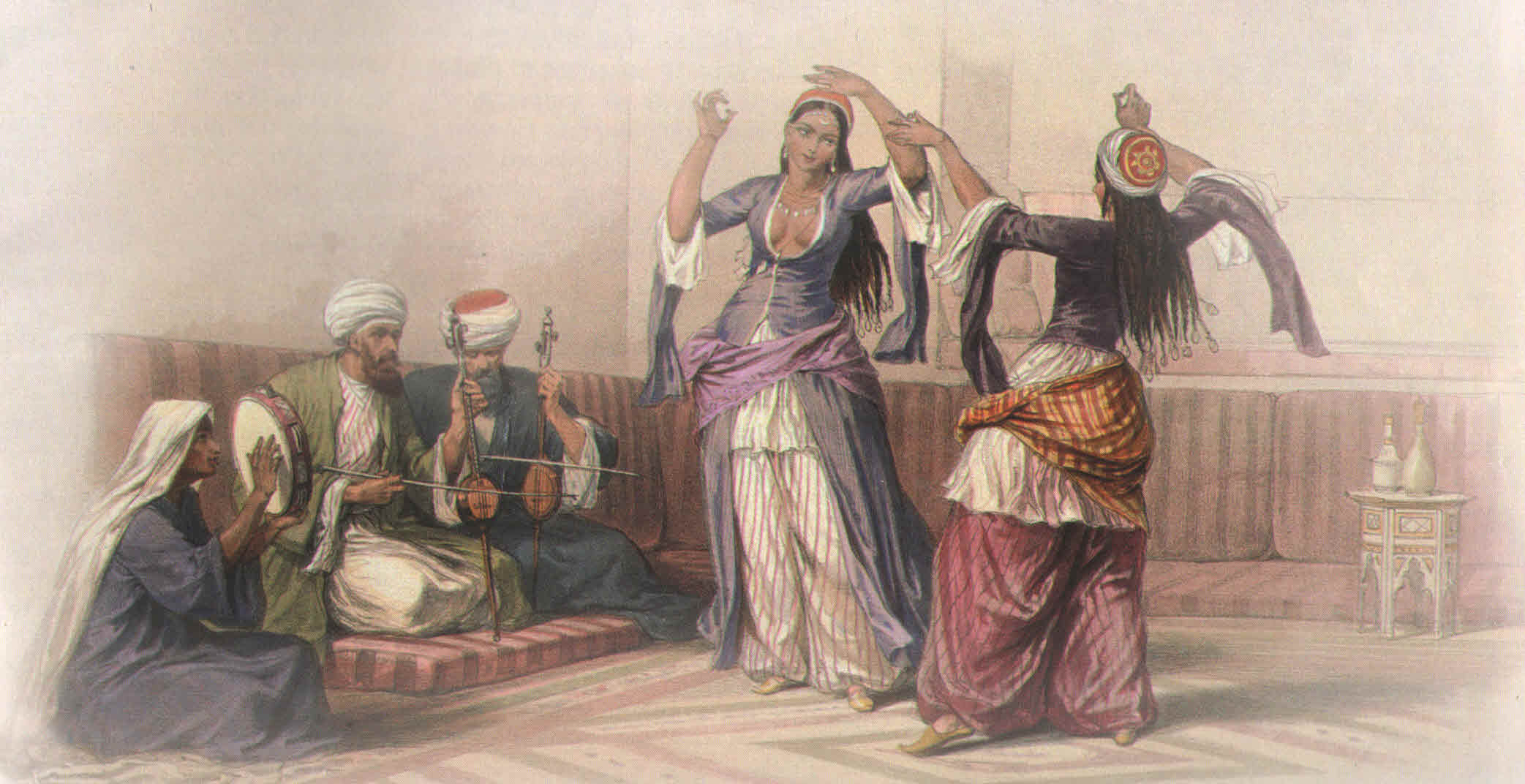 It takes about six to eight weeks for most students to learn the basic isolations and movements and several months to learn a dance routine. Belly dancing is very deceptive--pros make it look so easy. It takes many years to refine the movements to a state of ease and perfection. While belly dancing is the most natural dance to learn, it is probably the most difficult dance to learn because:
It is an expression of another culture's view on how the human body should move.
It is a dance using deep muscle control not found in Western dance forms.
It uses the pelvis and abdomen to reflect joy and fertility not overt sexuality.
Its musical rhythms are different from Western musical forms and takes time to understand.
Belly dance and Western dance movements differ. In the belly dance the muscles in the torso are isolated and danced. Belly dancing is sensual because of the way we manipulate our bodies into curving, snakelike shapes. We do things that don't seem humanly possible; We are contortionists. Western dance primarily focuses on the limbs. Belly dancers also learn to use finger cymbals, veils, canes, and swords. Some dancers perform with fire and live snakes. Our music has many different rhythms and sounds which gives the dance it's exotic qualities. With time, practice, and patience, the individual gains a new respect for the highly developed and artistic discipline, the Belly Dance.
To help you with your studies, Sallamah has compiled information and tips:
More FAQs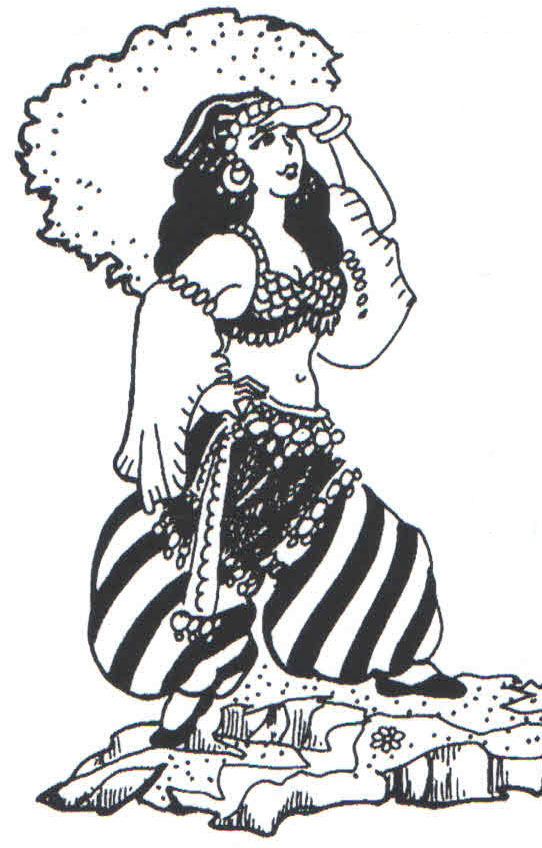 Do I Need to Have Prior Dance Training? NO previous dance training is needed. You will receive the training you need in class.
Do I Need to Take Ballet to Belly Dance? NO! Belly dancing has its own stance, alignment, movements, arm carriage, and form that cannot be duplicated by other dance styles. Every culture has their own interpretation of body movement and posturings which must be learned by studying their dances.
Are There Any Age Restrictions? NO! Anyone can belly dance at any age if they are mobile. The top professional dancers are all over thirty and most dance well into their 50s and 60s and some beyond. Young children don't do well but those 10 and older do fine with the muscle isolations and choreography.
Is There a Special Body Type Required for Belly Dancing? NO! There are dance movements that enhance every body type, size, age and abilities. People in the Middle East begin to belly dance when they are old enough to walk until they can no longer stand. It isn't a dance just for the slinky professionals.
I Have Arthritis Can I Belly Dance? Yes! Belly dancing is especially beneficial to those with arthritis or have issues with their knees, hips, ankles, and backs. It is gentle, works with the body's natural alignment and doesn't put much stress on the joints. As with all exercise, talk it over with your doctor before beginning.
I am pregnant. Can I Still Take Class? Yes, as long a you don't have any health issues related to the pregnancy. Belly dancing is good for both the mother and the baby. Many dancers continue dancing right up to delivery and return to dancing soon after the baby is born. Several of my students have used hip circles and figure eights to help during their labor. Of course, you need to check with your OB/GYN beforehand to make sure. For more information see The Health Benefits of Belly Dance...
What Level of Class Do I Need to Take? If you have never taken belly dance before, then naturally you need to start with a beginner class and work your way up from there even if you have studied other forms of dances and are quite proficient in them. If you have studied belly dance with other teachers you will want to take a least a few of our advanced beginner classes to see how the technique differs and become familiar with my style. You can always advance. We even have technique classes you can take in conjunction with your regular classes to help you along.
What Do I Need to Wear?Students need to wear form fitting clothing such a stretch tops and slacks or shorts, work-out clothes or anything that lets them move, see their bodies, and be comfortable. You do not need to bare your midriff. You can dance bare footed or wear socks. We sell Grecian sandals and encourage students who have foot or ankle problems to purchase them early. We require shoes be worn at all of our performances for safety. A hip scarf or shawl is an essential part of your attire and learning experience. Bring one from home or buy one at EDE. See What to Wear...
What Does the Class Cover? The belly dance class covers the basic moves and isolations such as snake arms, Figure 8's, hip circles, traveling steps, hip drops and thrusts, undulations, camel walks, hip and shoulder shimmies, chest circles and drops and more. You will also learn easy turns and traveling steps. Classes begin and end with a warm-up and a cool-down. Each choreography taught will have a breakdown of all the technique in the routine. Each six week session uses different music and teaches a new dance.
Isn't Belly Dancing Like Stripping? NO! Belly dance is the oldest form of dance known. It was originally a dance done by women for women to celebrate life's important events, like weddings, birthdays, pregnancy, and the birth of the baby. Young girls learn the dance from their mothers, aunts, sisters, and close family friends. It is a sensual, NOT sexual dance. We do not remove any clothing when we dance, and there is nothing offensive or vulgar in the dance.
Will I Be Allowed to Perform? YES! You don't even have to know how to dance to come to the Haflas. As soon as you learn a couple of dances and are ready to perform, you will be asked to dance with the troupe.
If I Take A Class, Can I Join the Troupe?It takes more than a class to be invited to perform. I will look at your abilities, your attendance record, attitude, and compatibility with the other performers. My insurance only covers students who are currently registered with me. See Dancer Selection...
Is the Troupe A Professional Troupe? Yes and NO. Some are, but most are not. They are all very dedicated to dancing and have studied and trained hard to become performers. They are taught how to be professional and we have set professional standards with our approach to dance, choreography and costuming. We do earn money through our performances, so in that sense we are professionals. But we all have full-time jobs and do not earn a living solely from belly dancing.
Do I Have To Get A Costume? Is There a Certain Kind? Good questions. Don't run out and purchase a costume before checking with your instructor about what she wants for her shows. And, costumes are not required for dance classes. When the time comes for you to perform, we have a beautiful but easy costume for our students to make. I even have some extras to lend.
Are You A Professional Dancer? Do You Still Perform? YES and YES! Age has no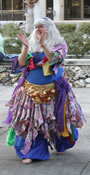 bearing on a person's ability to teach, perform or entertain. There are age appropriate venues for everyone and teaching is ageless as long as the instructor continues her studies and constantly works on her technique. I know how to do the movements, can direct my focus on you and can tell whether you are doing the move correctly in a glance. A highly trained and organized teacher can advance your skills and put you ahead of your contemporaries.
Where Can I Belly Dance? Belly dance can be performed at many different venues. You can dance at home with family and friends for personal enjoyment. You can get with a group and perform at local events. You can participate in Haflas or attend workshops (intensives) and dance at their showcases. You can hone your skills and enter a belly dance competition. After you have some experience, you may want to dance at hookah lounges and restaurants. You can get bookings to perform at parties, weddings, trade shows, sci-fi conventions, and cruise ships. Use your imagination. At Ethnic Dance Expressions we have numerous opportunities from halfas to festivals to theater shows to prepare our students for a variety of performing situations.
I Have Small Children--Can I bring them to class? Only in an emergency. If your children have to come to class, bring something that they can quietly entertain themselves with such as books, hand-held games, paper to draw on, or their homework. As long as the children aren't disruptive and stay off the dance floor, I don't have a problem with it.
Your Goal
As a belly dancer, you will weave a web of fantasy around your audience and show them the beautiful, sensual mystique of your undulating and isolated movements, your mastery of the shimmy, and your interpretation of the music's many rhythms and nuances. You will present yourself in a dignified and regal manner as you make your audience politely welcomed, but captivated subjects. You will feel radiant and rejuvenated as you dance from your heart. You will share with the audience, the inner beauty you have developed and your own unique talents.
Remember, the integrity of the dance is measured by the quality of the dancer herself and it is the dancer who gives the dance its reputation and its standing in the community. To dance with dignity, grace and ease, you must don your harem pants as a ballerina dons her tutu or a Tahitian dancer dons her grass skirt, and exercise and practice the movements and isolations over and over again until the metamorphosis is complete.