Ethnic Dance Expressions
School of Belly Dance
Gainesville, Florida
Appearances & Workshops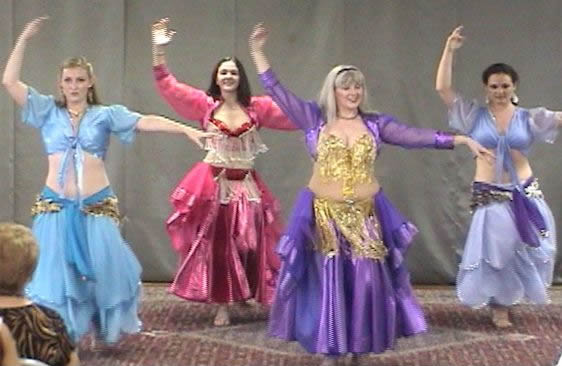 Ethnic Dance Expressions will be appearing at the following Shows and
offering the following Workshops.
Performances
Gainesville 2017 International Shimmy Mob & Show:
Ethnic Dance Expressions has participated in the Shimmy Mob to raise funds and awareness globally about domestic abuse since 2013. The performance this year will be on May 13, 2017 at noon around the world. Gainesville, Florida's shimmy mob teamleader, is Lee Marlowe. You can still donate to Ocala Domestic Violence & Sexual Assault Center via their web site: www.ocaladvshelter.org.
Father's Day at the Atrium in Gainesville:
Sunday, June 18 at 3:30 pm in the Atrium's Lobby room.
Gainesville Downtown Festival & Art Show:
November 11 and 12. Day, stage location and time of our performance to be announced later.
Workshops and Intensives
Postponing August workshop to allow time to finish our costume sewing projects for the Fall shows.
Beginner Quick Start Technique Intensive Register Now!
Ethnic Dance Expressions School
1:00-3:15 PM
Pre-register by 2:00 PM, Friday,
Cost: $35.00 or a punch on your EDE Dance Card
Go Online to: www.EthnicDanceExpressions.com to make your payment via Pay Pal
(No account is needed for credit and debit card purchases. Pay Pal accepts Visa, Master card, Discover and American Express)
Click on the You Tube icon below and see us dance.