Ethnic Dance Expressions
School of Belly Dance
Gainesville, Florida
Appearances & Workshops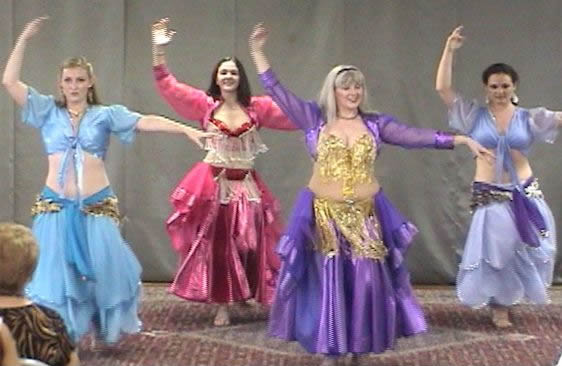 Ethnic Dance Expressions will be appearing at the following Shows or
offering the following Workshops.
Upcoming 2019 Performances
2019 Santa Fe College Spring Arts Festival:
Ethnic Dance Expressions performs from 10:30 to 11:00 am on the Actor's Warehouse Stage located on NE 1st Street between NE 6 & 7 Avenues.
Past Performances:
2018 Downtown Festival & Art Show, Sunday, December 2 on Plaza Stage at 3:30 pm.
2018 Micanopy Fall Harvest Festival, October 28. We are scheduled to perform on Sunday, Oct. 28 at 11:00 am.
2018 Harbor Chase show on Saturday, September 29 at 2:30 pm.
2018 The Village at Gainesville "Spice of Morocco" Dinner Show - Monday, July 30 from 6:30-7:15 pm in Tower Club Ballroom.
2018 Middle Eastern Dance Around the Mediterranean - Tower Road Branch Library- Children's Summer Program -Tuesday, July 24 from 2:00-3:00 pm
2018 Father's Day Show at Gainesville Atrium on Sunday, June 17 at 2:00 pm.
2018 Shimmy Mob Performances:
Shimmy Mob performance on Saturday, May 12 at noon at Thornebrook Village. May 19 Shimmy Mob Fundraiser Show at Blackadder Brewing Co. from 7-8:30 pm 618 NW 60th Street.
2018 Santa Fe College Spring Arts Festival:
Ethnic Dance Expressions performs from 10:45 to 11:!5 am on the Bo Diddley Stage.

2018 GFAA Fine Arts Fair at Town of Tioga:
Sunday, March 4 Ethnic Dance Expressions opens the day's festivities at 9:45 am with a parade followed by our performance on the main stage at 10:00-10:30 am.
Brookdale Gainesville SW Residents' Show: Sunday, Oct. 22 at 3:00 pm.
2017 Micanopy Fall Harvest Festival: Tentatively set for Sunday morning, Oct. 29 on Gazebo Stage.
2017 Gainesville Downtown Festival & Art Show:
November 11 and 12. We perform on Sunday, November 12 on the Plaza Stage at 4:00 pm.
Workshops and Intensives
Postponing August workshop to allow time to finish our costume sewing projects for the Fall shows.
Beginner Quick Start Technique Intensive Register Now!
Ethnic Dance Expressions School
1:00-3:15 PM
Pre-register by 2:00 PM, Friday,
Cost: $35.00 or a punch on your EDE Dance Card
Go Online to: www.EthnicDanceExpressions.com to make your payment via Pay Pal
(No account is needed for credit and debit card purchases. Pay Pal accepts Visa, Master card, Discover and American Express)
Click on the You Tube icon below and see us dance.